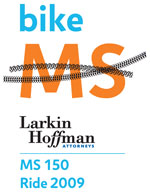 MS 150 BIKE TOUR PRESENTED BY LARKIN HOFFMAN
Duluth to Minneapolis/Saint Paul, Minnesota; Friday, June 12 — Sunday, June 14, 2009
Friends:
On Friday through Sunday, 12 – 14 June 2009, I am going to be participating in the Multiple Sclerosis 150 Minnesota bicycle tour from Duluth to the Twin Cities. The purpose of my participation is to raise funds for National MS research and support programs offered through the Minnesota Chapter of the MS Society.
I'm not riding with a team this year (My third time participating in the ride) but I'm stepping-up my commitment by volunteering as a Ride Marshal to insure that it's a safe ride for everyone.
Multiple sclerosis affects lives every moment of every year. At any time, someone with MS may suddenly be unable to stand up, hug their child or see a friend across the room.
Riding is a small thing for me to do for people who face the devastating and relentless effects of MS every day. With each mile I ride, I hope to bring the National MS Society closer to a cure.
I have two friends who have MS, they need the help and support of the programs offered by the MS Society, and it would be great to see this horrible ailment eradicated. If you could spare as little as $0.10 per mile for my journey and make a pledge of $15.00 it would really help. Just remember that any pledge that you make is tax deductible too, if that makes it easier for you to pledge above the ten cents per mile level. In addition, the MS Society makes it really easy for you make a donation to sponsor me; just go to this page to enter a pledge of support.
If you can help, we may be able to eradicate this crippler of young adults in our lifetime.
Thanks for your support!
If you want to join me on the ride, email me and I'll help you get started.