I was watching the latest Looney Tunes Golden Collection (Volume 6) with the WWII cartoons on it, and remembered this really great LP that my parents owned. I had made a cassette from it and I wondered if it had ever been released on CD or if there are MP3s of the tracks anywhere. It's really an awesome album, and the cassette copy I have is really noisy.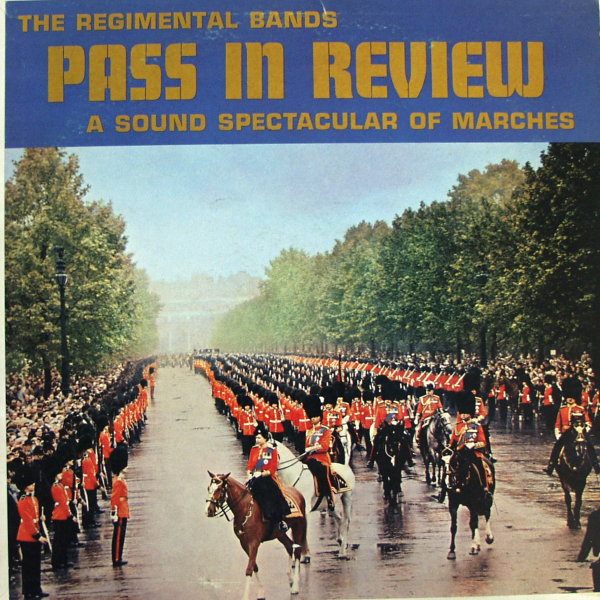 The Regimental Bands "Pass In Review" A Sound Spectacular of Marches; Somerset SF-16300, © 1962; 102-2
Side One
Big Ben tolling with approach of household cavalry followed in order of precedence by The Brigade Of Guards
The Life Guards
The Royal Horse Guards
The Brithish Grenadiers
Highland Laddie (Scots Guards)
Men Of Harlech (Welsh Guards)
St. Patricks Day (Irish Guards)
Milanollo (The Coldstream Guards)
Side Two
Rule Brittania
Life On The Ocean Waves (Royal Marines)
Cock Of The North (Gordon Highlanders)
Soldiers Of The Queen
R.A.F. March
Prince Albert (Somerset Light Infantry)
Pomp and Circumstance
God Save The Queen (National Anthem)
A brilliant program of marches of the British Armed Forces that pass in review on the mall with actual sounds of Big Ben. The cavalry and commands by Regimental Sgt. Major Ronald Brittain, M.B.E.
Of all the colorful and stirring spectacles in the world, none offers more of a pulsating experience than a parade on the Mall in London.